Feb 23, 2014 - John's Arcade Impossible!
Last November I went to Illinois and hung out with the Arcade Impossible guys. We picked up a game and we both filmed the day. I released my version of the day back in November and today the Arcade Impossible guys released their video. Check them out below! It was SUPER fun.
Arcade Impossible's Video: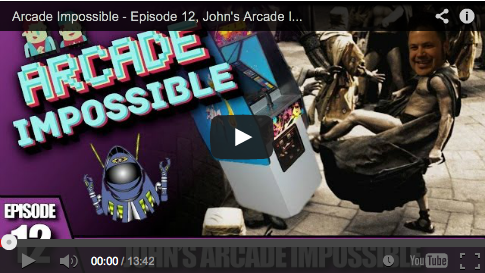 My video: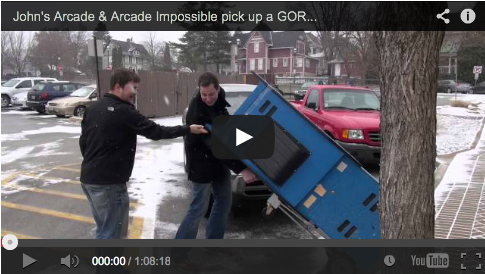 Leave or Read Comments


Dec 29, 2013 - Just a quick update! And, check out the revamped forum!
Hey guys, I just wanted to post a quick update. Even though I don't update this part of the website often doesn't mean I am not releasing weekly content. I'm still releasing 1-2 videos each week on Youtube. Check them out! I'm also getting more active on Google+, so follow me there too!
Also, in case you missed it... I finished my Pac-Man cabaret restore. WOOT! The playlist for this restore is here. We covered a TON of ground in this series. We did EVERYTHING!
FORUM NEWS! I recently have been taking the time to improve the John's Arcade Forum. I added a cool shoutbox and gave it a new look. So, if you never joined the forum, now is a GREAT time!! This is also a great way to get ahold of me.
Lastly, if you are not aware... I am doing a weekly arcade and pinball podcast called, Arcade Outsiders, with super collector's Joe "Jow" Senigaglia and Shawn "Phetishboy" Williams. It's a TON of fun (and stupid)! :)


Leave or Read Comments


Jul 20, 2013 - Tons of new vids on my YouTube channel
I'm releasing new videos 1-2 times each week. Typically on Sundays and sometimes inbetween. I try to add the videos to this homepage but sometimes I forget. :) So, if the page seems like it hasn't been updated in awhile then check out my Youtube page for the absolute latest from me! :)
Here's the vids I have released since the last update:
Gyruss Restore Series
This is an eight part epic restore!

Click here to watch the restore

Time Pilot Restore Series
Another epic restore captured on video!

Click here to watch the restore
And, here are some others:
Stern's Metallica Pinball review and unboxing:
Taito Superman arcade game review! The man of steel!:
Dragon's Lair arcade game review. Laserdisc action!:
Galaga '88 arcade game review. NAMCO classic sequel!:


Leave or Read Comments


May 22, 2013 - Couple of new vids!
I went to Pinfest in Allentown, PA and filmed the whole adventure. It was pretty darn awesome. I'm guessing there were 500 or more playable pinball machines at the event. It was pretty EPIC!
Allentown Pinfest:
I also posted Part 6 of my Gyruss restore. Check it out here:


Leave or Read Comments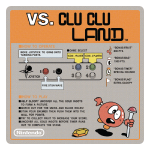 May 12, 2013 - Vs. Clu Clu Land instructiion card added!
Reid Parsekian over at KLOV created a FANTASTIC instruction card for Vs. Clu Clu Land. This is one of those gamest ,that for whatever reason, doesn't seem to have an instruction card. Well, Reid took care of that and created one the way Nintendo might have. It's pretty sweet! Big thanks to Reid for letting me host the file here on my site.
Check it out on the Nintendo Vs. Tech page or download it here


Leave or Read Comments


May 12, 2013 - A bunch of new vids!
I released a bunch of new vids the last few weeks including a review of my newly acquired Major Havoc and four more parts of my Gyruss restore! Check them out below!
My Major Havoc Tempest conversion gameplay review:
Teenage Mutant Ninja Turles: Turtles in Time TMNT review:
Gyruss Restore Part 2: How to install a cap kit
Gyruss Restore Part 3: Stripping Metal, Woodworking, etc.
Gyruss Restore Part 4: How to degauss, restore, and rejuve a monitor. Bondo work:
Gyruss Restore Part 5: How to degauss, restore, and rejuve a monitor. Bondo work:


Leave or Read Comments


Mar 31, 2013 - Custom Centuri Coin Reject Inserts
I made these for my Track and Field and I'll be printing them once again for my Gyruss restore. So, I thought this was a good time to share my custom Centuri Coin Reject Inserts. The file is a vector PDF. Just print these out on standard paper, cut them out, and replace your ancient inserts on your Centuri game's coin door with these cool custom inserts! ENJOY!
Click the image below to download the PDF



Leave or Read Comments


Mar 30, 2013 - Gyruss Restore Underway! And, a TX-1 review
I posted a video today with two parts. The first part is a video review of NAMCO's racing game TX-1. It was licensed to Atari in the US and is a pretty neat game with three monitors. After the TX-1 review, we'll head to the garage to check out my GYRUSS restore in progress. CHECK IT OUT!


Leave or Read Comments